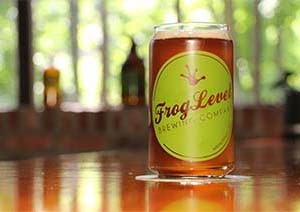 Tapping into the craft beer explosion, Haywood County is home to four micro breweries – BearWaters Brewing ,Boojum Brewing Company, and  Frog Level Brewing. Offering everything from IPA to Ales, Haywood County microbreweries are showcasing quality products in a comfortable, family-friendly atmosphere.
Despite all of the noise and excitement echoing out of Asheville's microbrew scene, the breweries in Haywood are looking to create their own buzz, something that will stand on its own and ultimately link into the future of brewing and backwoods tradition in Southern Appalachia.
The future of brewing also leads to the locally grown hops scene that the Haywood County breweries are taking advantage of. Several farms have seen the need for locally sourced hops and have created a market selling a local product to local businesses.
"I think the 'go local' aspect is a better wing of craft brewing. You're not going to get any fresher beer than beer made in Haywood County, and if we can get local products to make it, then it comes full circle."- Clark Williams, owner and brewmaster, Frog Level Brewing.