Haywood County is brimming with Things to See and Do and outdoor adventures are around every corner. For the outdoor enthusiast, whether it be hiking, biking, fishing, boating, skiing, rafting or canoeing, Haywood County has it all.
The Blue Ridge Parkway combines curvy roads and the perfect mountain backdrop for the cycling or the motorbike enthusiasts. As you wind your way on the Parkway, do not forget to visit the Parkway Craft Center at Moses Cone Manor at milepost 294 and the Folk Art Center at milepost 382. Other interesting sites on the Parkway include Waterrock Knob at milepost 451, Linville Falls at milepost 316, Linn Cove Viaduct at milepost 304.4, and the Doughton Park and Brinegard Cabin at milepost 238.
Tee off from one of the area's many golf courses. The Waynesville Inn Golf Resort & Spa, Maggie Valley Club, Laurel Ridge Country Club & Springdale Country Club offer prestigious mountain views and picture perfect greens.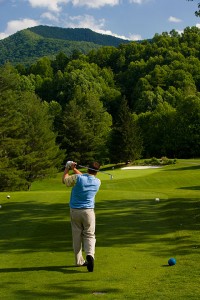 Perhaps the most famous natural attraction in the area is the Great Smoky Mountain National Park. The 520,00 acres of pristine wilderness is a world unto itself. The Blue Ridge Parkway surrounds the County with access from four entrances. The Nantahala National Forest, North Carolina's largest national forest, spans 516,000 acres from Waynesville west to Murphy, Fontana and Cashiers. The Nantahala River Gorge, a nine-mile stretch of the Nantahala, offers a haven for whitewater rafting and kayaking.
Manitoban elk are also a must see for visitors to the area. Most elk are located in the Cataloochee Valley area in the south eastern section of the Great Smoky Mountain National Park.
Haywood County also offers a wide variety of arts and cultural organizations, museums featuring handicrafts by regional artisans, collections devoted to preserving and exhibiting our heritage, and even one that celebrates American transportation through the ages.
The Haywood Arts Regional Theater has become one of the most active theater companies in the region, attracting guest artists from New York, and actors from all over Western North Carolina. Located in the Performing Arts Center, HART produces seven Main Stage plays and up to six Studio Theater shows each year.
The Museum of North Carolina Handicrafts is located in the Shelton House in Waynesville, with a fine collection of pottery, quilts, baskets and woodworking. The Shelton House is listed on the National Register of Historic Places.
The Canton Area Historical Museum is devoted to collecting, preserving and exhibiting heritage handicrafts, artifacts, records and photographs of the setting and growth of the eastern section of Haywood County.
Lake Junaluska Heritage Museum and the World Methodist Museum are both located at the Lake Junaluska Assembly, featuring books, photographs and other items related to the development of Methodism in the area.